This is the second post about french manicures. I was initially going to include this into the first one but I just couldn't make a decent video to show you the whole process!
In order to better understand what I'm talking about, first read the previous post -
A perfect french manicure - types
. It is strictly related to this one.
Aceasta este a doua parte a postarii despre manichiuri french. Voiam initial sa o includ in postarea precedenta dar nu am putut sa fac un clip decent ca sa-ti arat tot procesul!
Ca sa intelegi mai bine despre ce vorbesc, citeste mai intai postarea precedenta -
O manichiura french perfecta - tipuri
. Este strict legata de aceasta.
I don't know what's happening with Blogger :( I am so sorry there are two fonts in this post, I didn't do it!
Nu stiu ce se intampla cu Blogger :( Imi pare rau ca sunt doua fonturi in aceasta postare, nu e vina mea!
In my opinion, a less curved smile line looks good only if the nails are square shaped. A deeply curved smile line looks good both on oval or pointed nails and on square nails. If you want a natural looking manicure, regardless of your nail shape, never do your smile line straight. Of course, a straight smile line can be part of a design, that's a whole other story :)
Dupa parerea mea, o linie de zambet mai putin curbata arata bine numai pe unghii patrate. O linie de zambet adanc curbata arata bine si pe unghii ovale sau ascutite si pe unghii patrate. Daca vrei o manichiura french care sa arate natural, indiferent de forma unghiilor tale, nu face niciodata linia de zambet dreapta. Bineinteles, o linie de zambet dreapta poate fi parte dintr-un design, este cu totul alta poveste :)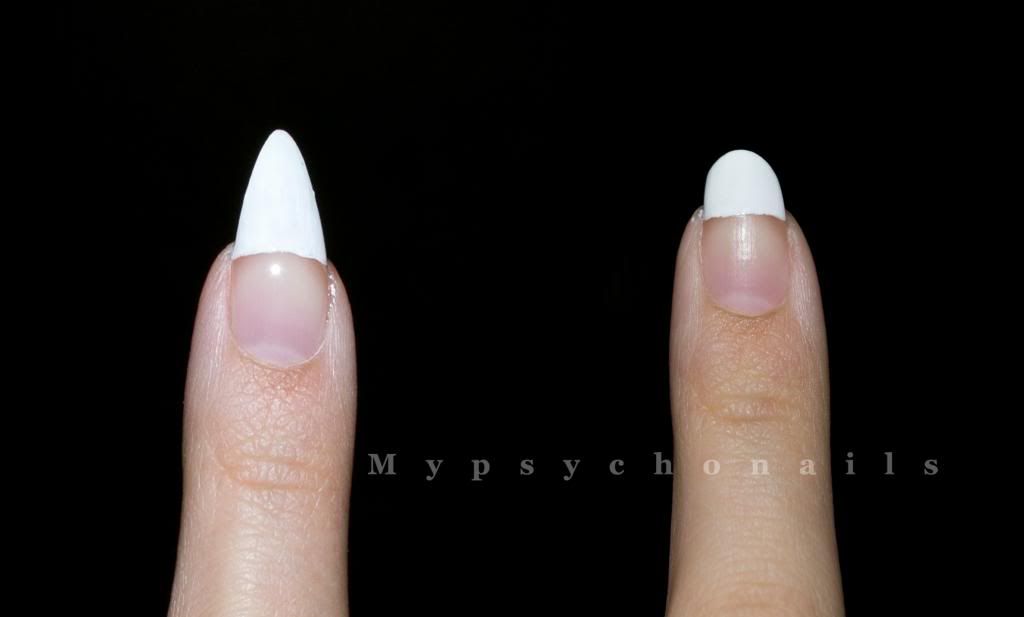 A no-no!
Geometric designs including straight smile lines
When doing a french manicure, the smile line must be symmetrical and perfectly done. If the natural smile line is not pretty, it is our job to fix it. The deepest point of the smile line we create should normally coincide with the deepest point of the natural smile line. There's an exception - when the natural smile line is crooked (see the second photo).
Cand faci o manichiura french, linia de zambet treb
uie sa fie simetrica si perfect facuta. Daca linia de zambet naturala nu este draguta, e treaba noastra sa o corectam. Cel mai adanc punct al liniei de zambet trebuie, in mod normal, sa coinicida cu cel mai adanc punct al liniei de zambet naturale. Exceptia este atunci cand linia de zambet naturala e stramba (vezi a doua poza).
Crooked natural smile line
Perfect smile line
About the faux french - the purpose is to hide the real length of the free edge and to achieve that, the colour applied as a base must be perfectly opaque. The faux french is great for persons with a short nail bed, as I also said here (at the end of the "How to choose the nail shape that suits you best" part) - The ideal nail shape (long and interesting post).
Despre french-ul fals - scopul este sa ascundem lungimea reala a marginii libere si ca sa obtinem acest lucru, culoarea aplicata ca baza trebuie sa fie perfect opaca. French-ul fals este bun pentru persoane cu patul unghiei scurt, dupa cum am zis si aici (la sfarsitul partii intitulata "Cum sa-ti alegi forma de unghie care ti se potriveste cel mai bine") - Forma ideala de unghie (postare lunga si interesanta).
About the high french - don't mistake this type for the half moon manicure. For a high french the smile line is done below the lunula and the "nail bed" is usually clear or sheer coloured.
Despre french-ul inalt - nu confunda acest tip cu manichiura semiluna. Pentru un french inalt linia de zambet este facuta sub lunula si "patul unghiei" este de obicei transparent sau intr-o culoare translucida.
High french
Half moon
A french manicure can be done using nail polish or acrylic paint. However, acrylic paint is easier to work with, thus making a perfect smile line easily achievable (example: Guest post for Vera Vega). The downside is that it doesn't wear very well. The best combination is to paint the smile line using acrylic paint and fill in the rest of the free edge with nail polish.You have to get an exact colour match between the paint and the polish if you don't want an accentuated smile line :P A great idea is to use this combined method for white or black french manicures because these colours are always the same. The french tip must be opaque. If using acrylic paint, it might need more than one or two coats.
O manichiura french poate fi facuta folosind oja sau culoare acrilica. Cu toate acestea, vopseaua acrilica se lucreaza mai usor, o linie de zambet perfecta fiind mai simplu de obtinut (exemplu: Oaspete pe blogul Vera Vega). Partea proasta este ca nu e prea rezistenta. Cea mai buna combinatie este sa pictezi linia de zambet folosind vopsea acrilica si sa umpli restul marginii libere cu oja. Trebuie sa obtii o potrivire perfecta de nuanta intre vopsea si oja daca nu vrei o linie de zambet accentuata :P O idee foarte buna este sa folosesti aceasta metoda combinata pentru manichiuri french albe sau negre pentru ca aceste culori sunt tot timpul la fel. Varful manichiurii french trebuie sa fie opac. Daca folosesti culoare acrilica, este posibil sa fie nevoie de mai mult de unul sau doua straturi.
Meanwhile, I managed to film a decent video and I'm very satisfied with it :D Here it is:
Intre timp, am reusit sa filmez un clip decent si sunt foarte satisfacuta de el :D Aici e:

00:00 -> French manicure with a less curved smile line/ Manichiura french cu linia de zambet mai putin curbata
French manicure with a curved smile line/ Manichiura french cu o linie de zambet mai curbata:
00:37 -> with nail polish/ cu oja
02:07 -> with acrylic paint/ cu vopsea acrilica
03:50 -> French manicure with a V shaped smile line/ Manichiura french cu linia de zambet in forma de V
05:14 -> Reverse french manicure/ Manichiura french inversata

For the french manicure with a less curved smile line - the method I show in the video works on all nail shapes. If you apply the nail polish from side to side, on an oval or pointed nail the excess polish will build up at the tip making the surface uneven. Plus, a perfect smile line is easier to achieve this way. If it didn't come out perfect you can retouch it using a striper brush.
Pentru manichiura french cu o linie de zambet mai putin curbata - metoda pe care o arat in clip merge pe toate formele de unghii. Daca aplici oja dintr-o parte in alta, pe o unghie ovala sau ascutita excesul de oja se va acumula in varf facand suprafata neuniforma. In plus, o linie de zambet perfecta este mai usor de obtinut asa. Daca nu a iesit perfecta o poti retusa cu o pensula pentru linii.
The high french is done exactly like a french manicure with a less curved smile line.
French-ul inalt se face exact la fel ca o manichiura french cu o linie de zambet mai putin curbata.
Hope this post is going to be useful. In the end, I'd like to show you just how flawless a french manicure done only with nail polish can be, if you practice - Nail-art doux papillon en aquarelle. See you!
Sper ca aceasta postare va fi folositoare. La final, as vrea sa-ti arat cat de impecabila poate fi o manichiura french facuta doar cu oja, daca exersezi -
Nail-art doux papillon en aquarelle. Pe curand!