I'm sure many of you will be interested in this post :) When I first started growing my nails I didn't even know it was possible to save a broken nail. I simply cut all of them and that was it. But times have changed :D
Sunt sigura ca multe dintre voi veti fi interesate de aceasta postare :) Cand am inceput sa-mi cresc unghiile nici nu stiam ca este posibil sa salvezi o unghie rupta. Pur si simplu le taiam pe toate si aia era. Dar vremurile s-au schimbat :D
Yesterday I broke a nail :( In fact, it was more like a tear, a piece of the top nail layer came off but not completely, it was still a little attached. I don't have any photos of it unfortunately but hope you get the idea.
I will present you the method I used. I don't know yet how well it will hold but I will keep you updated :)
Ieri mi-am rupt o unghie :( Nu a fost o ruptura completa, o bucata din stratul de la suprafata unghiei s-a desprins dar nu de tot, mai era putin atasata. Nu am poze din pacate dar sper ca ai prins ideea.
O sa-ti prezint metoda pe care am folosit-o eu. Nu stiu deocamdata cum va rezista dar te voi tine la curent :)
I used the following products: a 240 grit file, an empty teabag, clear acrylic powder, acrylic liquid and a size two acrylic brush.
Am folosit urmatoarele produse: o pila de granulatie 240, un pliculet de ceai golit, pudra de acryl transparenta, lichid acrylic si o pensula marimea doi pentru acryl.
How I did it
Cum am procedat
1. a) I filed the surface of the nail in the breakage area very delicately using the 240 grit file. I put a tiny acrylic bead under the tear then pressed it down holding it for a few seconds. After the acrylic has hardened a bit, I filed off the excess.
b) Am pilit foarte delicat suprafata unghiei in zona rupturii cu pila de granulatie 240. Am pus o biluta minuscula de acryl sub ruptura si am tinut apasat cateva secunde. Dupa ce s-a intarit putin acrylul, am pilit excesul.
2. a) I cut a piece of the teabag large enough to fit the tear, both on the front and back of the nail. I attached it with a very liquid acrylic bead moulding it on the edge of the nail to cover the back too.
b) Am taiat o bucatica suficient de mare din pliculetul de ceai cat sa acopere ruptura, atat in fata cat si pe spatele unghiei. Am atasat-o cu o biluta foarte lichida de acryl modeland-o pe marginea unghiei sa acopere si spatele.
3. a) I sealed it with another bead, making the surface as flat as possible. I buffed it a little and that's it! I know it isn't perfect but this was the first time I repaired a broken nail and I'm quite satisfied with how it came out :D
b) Am sigilat-o cu inca o biluta, facand suprafata cat de plata posibil. Am slefuit-o putin si gata! Stiu ca nu e perfect dar aceasta a fost prima data cand mi-am reparat o unghie rupta si sunt satisfacuta de cum a iesit :D
The result!
Rezultatul!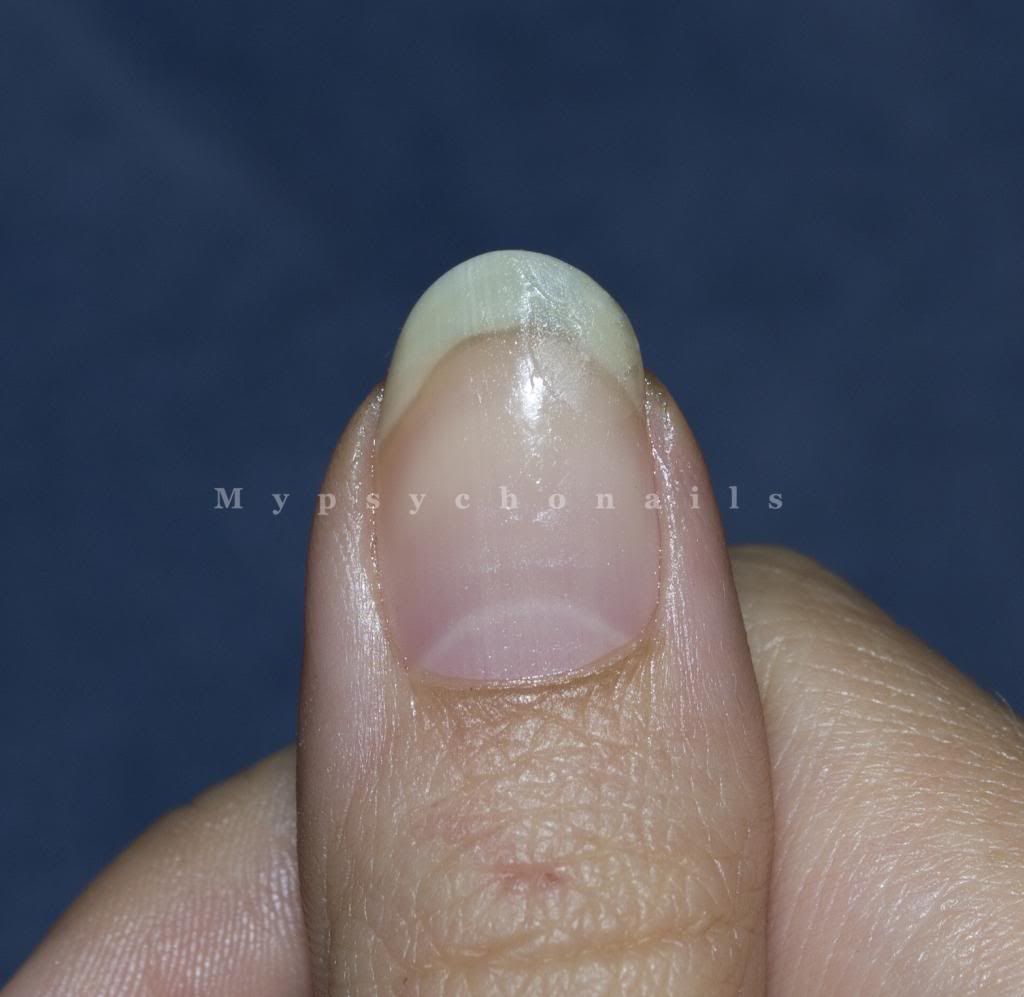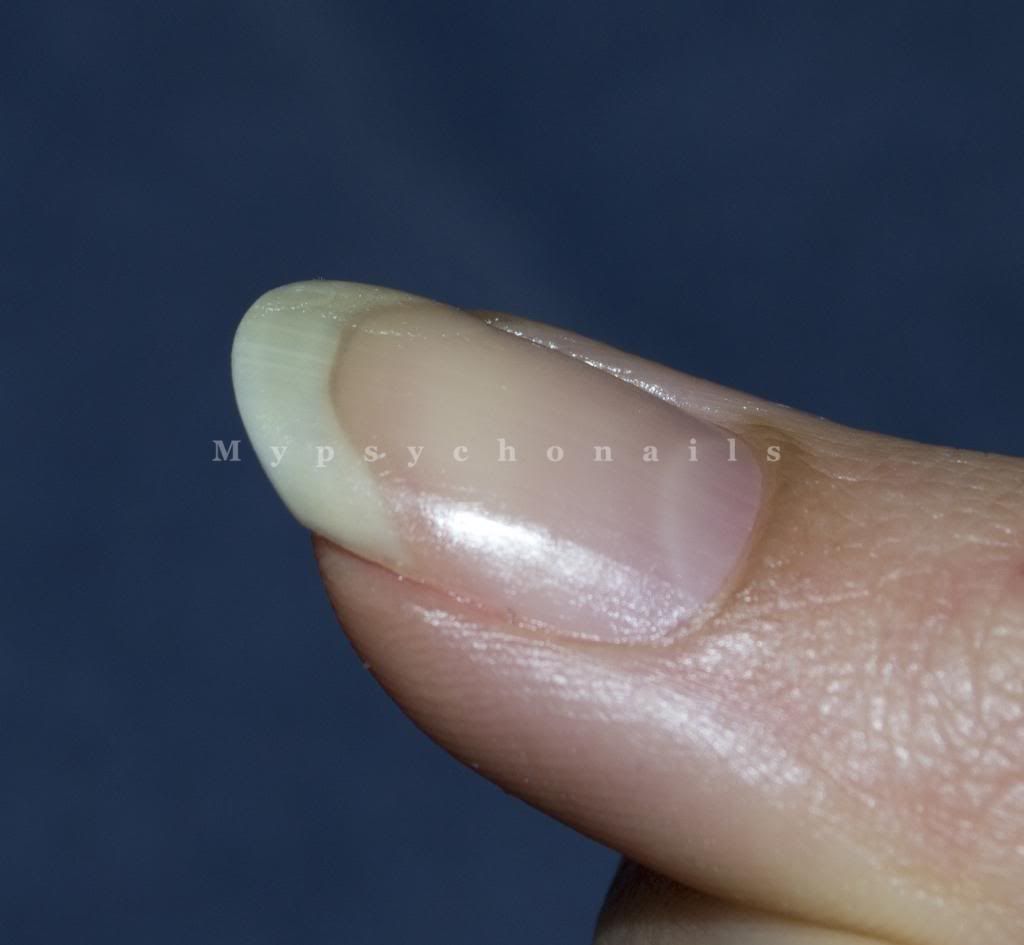 This is not the only option you have for repairing nails. You can also use nail tips glue, soak-off or normal gel (these both require a UV lamp for curing) instead of acrylic. Or you can try a nail repair kit. I would personally buy Orly's "Nail Rescue" kit which contains a powder and glue :P The powder is used instead of the teabag.
If you use glue or soak-off gel or acrylic, only use acetone-free nail polish remover!
Aceasta nu este singura optiune pe care o ai pentru repararea unghiilor. Poti folosi de asemenea lipici pentru tipsuri, gel soak-off sau normal (acestea doua necesita lampa UV pentru uscare) in locul acrylului. Sau poti incerca o trusa de repararea unghiilor. Personal, as cumpara de la Orly "Nail Rescue" care contine o pudra si lipici :P Pudra se foloseste in loc de pliculetul de ceai.
Daca folosesti lipici sau gel soak-off sau acryl, foloseste doar dizolvant fara acetona pentru oja!
Hope you found this post useful! To make breakages less likely to happen, always remember to moisturise your nails and cuticles daily. Don't keep your nails bare for too long because they are much less resistant and take care when you're handling things. See you!
Sper ca ti s-a parut folositoare aceasta postare! Ca sa micsorezi sansele unei rupturi, aminteste-ti intotdeauna sa-ti hidratezi unghiile si cuticulele zilnic. Nu-ti tine unghiile fara oja prea mult pentru ca sunt mult mai putin rezistente si ai grija cum umbli cu ele. Pe curand!