On Valentine's Day, I saw an awesome post on Kayla Shevonne's blog (
A Very Special Valentine's Day Post - Nails by ... David?
) and I thought "Wow, having her boyfriend paint her nails must have been so fun!" and I decided to do this too :D
And now, I present you Laur, my sweetheart and the most awesome nail artist ever! <3
P.S. Don't be too harsh on him as this is his first chef d'oeuvre! :))
De ziua Sfantului Valentin, am vazut o postare super draguta pe blogul Kaylei Shevonne (
A Very Special Valentine's Day Post - Nails by ... David?
) si m-am gandit "Wow, trebuie sa fi fost asa distractiv sa-si lase iubitul sa-i picteze unghiile!" si am decis sa fac si eu asta :D
Si acum, vi-l prezint pe Laur, iubitul meu si cel mai minunat nail artist dintotdeauna! <3
P.S. Nu fi prea dura cu el pentru ca aceasta este prima lui capodopera! :))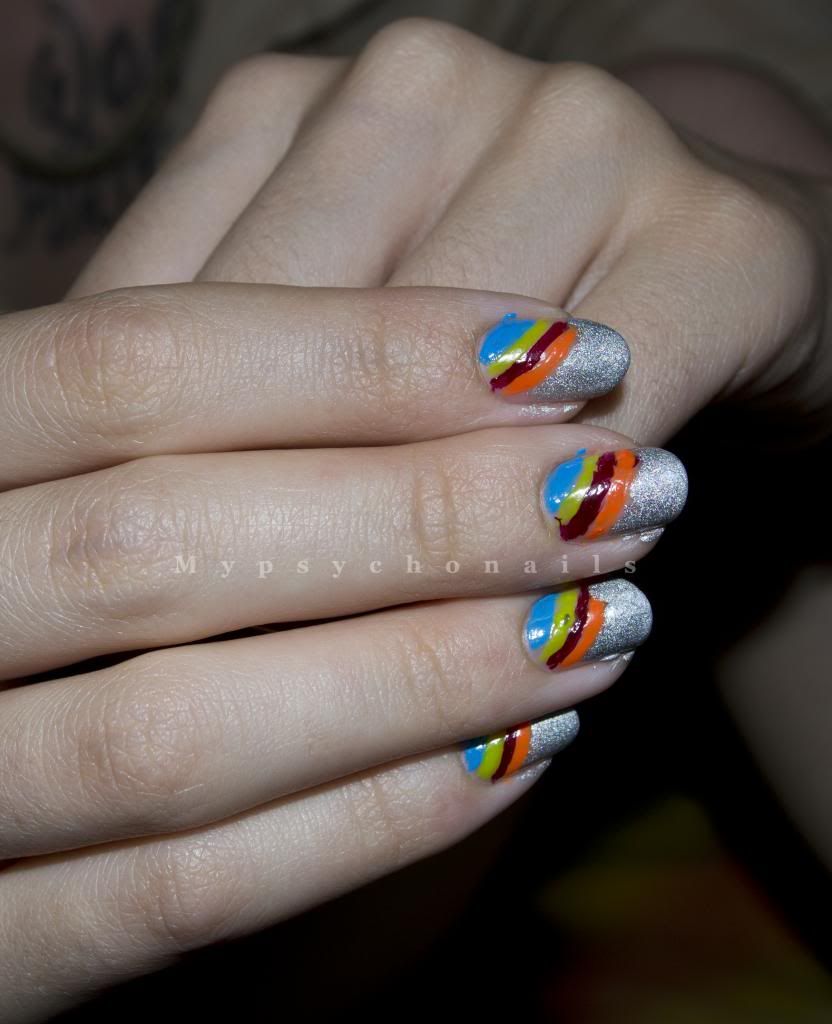 A challenge that was expecting me since Sascha has started having a passion for nail art. Saturday was the day I accepted it: paint her nails.
We met and started planning the attack. After an hour of brainstorming we finally decided on the design. A mix of colours painted diagonally on the nails that would end with a black French tip with white dots.
After another hour-long presentation of a hundred nail polishes, I picked the proper colours for the diagonal design. Then followed the tools training. I was recommended a slim brush that would help me make the diagonal lines precise enough to be envied by any nail art noob with shaky hands. And then the painting started. A total chaos! After a good laugh, I managed to doodle some lines on my honey's nice nails.
After about two hours of hardcore "painting" I gave up on the French tip idea and ended the masterpiece with a silver polish and sticked on a bear and a butterfly, which later fell off.
In the end, it was a nice experience which we both enjoyed. An experience that I will probably not repeat until at least next year =). I'll let you enjoy the design I came up with and have a good day!
O provocare ce ma astepta de cand Sascha a inceput sa fie pasionata de nail art. Sambata a fost ziua in care am acceptat-o: sa ii fac unghiile.
Ne-am intalnit si am inceput sa facem planul de atac. Dupa o ora de brainstorming am stabilit modelul. Un amalgam de culori pictate in diagonala pe unghii care sa se termine cu un French negru cu buline albe. Dupa inca o ora de prezentare a sute de oje, am ales culorile pentru modelul in diagonala. Apoi a urmat trainingul ustensilelor. Mi-a recomandat o pensula subtire care sa ma ajute sa trasez niste linii diagonale de o precizie de invidiat pentru orice incepatoare in ale nail art-ului careia ii tremura mainile. Si a inceput pictatul. Un haos total! Dupa ce ne-am amuzat copios am reusit sa mazgalesc niste dungi pe unghiile ingrijite ale iubitei. Dupa vreo doua ore de "pictat" intens am renuntat la ideea de a face French-ul si am incheiat capodopera cu un argintiu si am lipit un ursulet si un fluturas care ulterior a cazut.
Rezumand, a fost o experienta draguta care ne-a distrat teribil pe amandoi. O experienta ce o sa o repet cel devreme anul viitor =). Va las sa va bucurati de ce am realizat si spor la treaba!
I am so proud of him! <3 Hope you liked this post. My hubby is so talented <3 :))
Sunt asa mandra de el! <3 Sper ca ti-a placut aceasta postare. Iubitul meu e asa talentat <3 :))